In the process of food circulation and consumption, ensuring the freshness and quality of food is the primary function of food packaging. The application of new preservation technologies and materials has greatly extended the shelf life and shelf life of foods.

U.S. researchers put a layer of plastic film containing a chemical called Amosorb into the food packaging bag to eliminate oxygen in the package and make the packaged food not degenerate for a long time. The chemical substance is in a dormant state until it is irradiated with special light waves. Chemical effects begin to appear when exposed to special light waves. This means that in the packaging of foods, there is no need for complicated deoxygenation treatment, as long as it is irradiated with special light waves in the final process of food packaging.

German scientists recently invented a chlorophyll-stained plastic film. In green fruit and vegetable foods, most of them contain a large amount of chlorophyll, and this pigment undergoes a photo-oxidation reaction under light irradiation, decomposing the energy in the food and causing the food to rot. The plastic film is "stained" with chlorophyll in a special way. After this treatment, the film can effectively "intercept" the light that causes the food to rot, thus greatly prolonging the food preservation period.

Russian experts have added dehydrated acids, various mineral salts and enzymes to polymers in packaging materials. The surface of the packaging bag, which is rich in these substances, can absorb excess moisture in the packaged food and kill the bacteria, thereby improving the internal environment of the packaging bag. At the same time, the enzymes in the additive can also regulate the odor of the food and create a living space for nutrients in the food.




Brief introduction

1. Microfiber Jewelry Bag/Pouch can be used to hold glasses, eyewear, sunglasses, iphone, ipad, watch, jewelry ,earphone and other electronic products.

2. Super fine Microfiber Bag/Pouch can protect screen of your iPad, Iphone, glasses, watch, jewelry etc from scratch.

3. You can print your LOGO on the product for promotion ,It will let your client happy and be your faithful client.




Detailed description :




Commodity: Microfiber Jewelry Bag, Microfiber Jewelry pouch (single drawstring/double drawstring)

Material:

A. 80%polyester&20%polyamide

B. 70%polyester&30%polyamide

C. 75%polyester&25%polyamide

D. 100%polyester




Weight:170gsm~280gsm(as per your decision)

Standard Size: 9*18cm,10*10cm,8*8cm (customized as requirement)

Color: black, white, blue, pink, orange, green, navy (Any pantone color is available)

LOGO Process:silk-screen, deboss, emboss, heat-transfer, golden-stamped, silver-pressing (Select the best way for your LOGO)

Price term: EXW / FOB Shanghai/Ningbo / CNF / CIF

Carton size: 40*33*31cm / 44*39*38cm

Standard Packing: 100pcs per polybag, 2000pcs /carton

MOQ: 5000Pcs per color per style




Delivery time:

1. sample time: 3~5 days in general

2. products time: 15days after samples confirmed

Payment: T/T, L/C, D/A, A/P, Paypal, West Union




Product advantage




1. Scratch-free, Smear free .


2. Reusable and washable.

3. Microfiber Jewelry Bag / Pouch can protect screen of your Jewelery , mobile phone ,glasses, etc from scratch.

4. Used for gift to your customer, for promotional purpose with your LOGO.

5. Used for Jewelry , headgear and other delicate product as well as clean eyeglasses, sunglasses, jewelry, electronics, etc.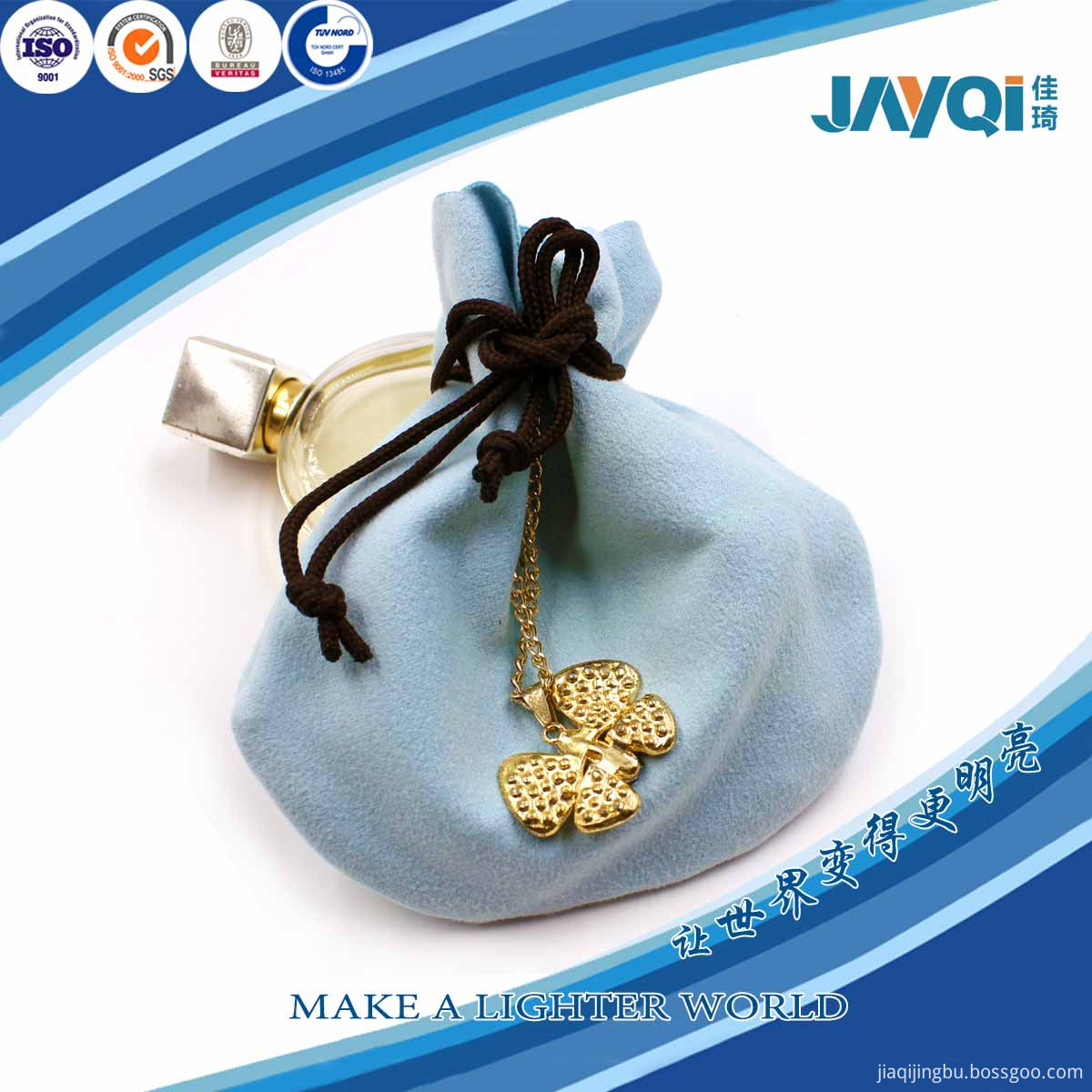 Jewelry Bag
Jewelry Gift Bag,Personalized Jewelry Bag,Suede Jewelry Bag,Fashion Jewelry Bag,Jewellery Pouch
Jiangsu JayQi Microfiber Textile CO.,LTD , http://www.jayqitextile.com